The René Wellek Prize Citation 2015 (Honorable Mention)
Rivkah Zim,
The Consolations of Writing: Literary Strategies of Resistance from Boethius to Primo Levi
  (Princeton University Press)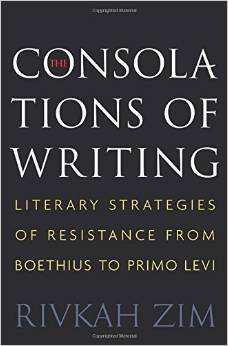 The Consolations of Writing
is an elegant study of the politics of prison writing across linguistic and period boundaries.  Zim juxtaposes different pairs of prisoners of conscience – Boethius, Thomas More, John Bunyan, Marie-Jeanne Roland, Oscar Wilde, Antonio Gramsci, Dietrich Bonhoeffer, Anne Frank and Primo Levi – who write to confront and perhaps to conquer their pain, loneliness and fear.  Through diachronic pairings of texts, she illuminates recurrent features in prison writing and reveals a formalist set of concerns – the freedom of the mind, the ethics of testimony, and the redemptive power of the imagination – as well as the authors' meditations on the struggles of earlier captives, both biblical and classical.   In a series of remarkable formalist readings, Zim charts the afterlife of the Socratic tradition of spiritual exercises in post-classical prison narratives.
Sidebar